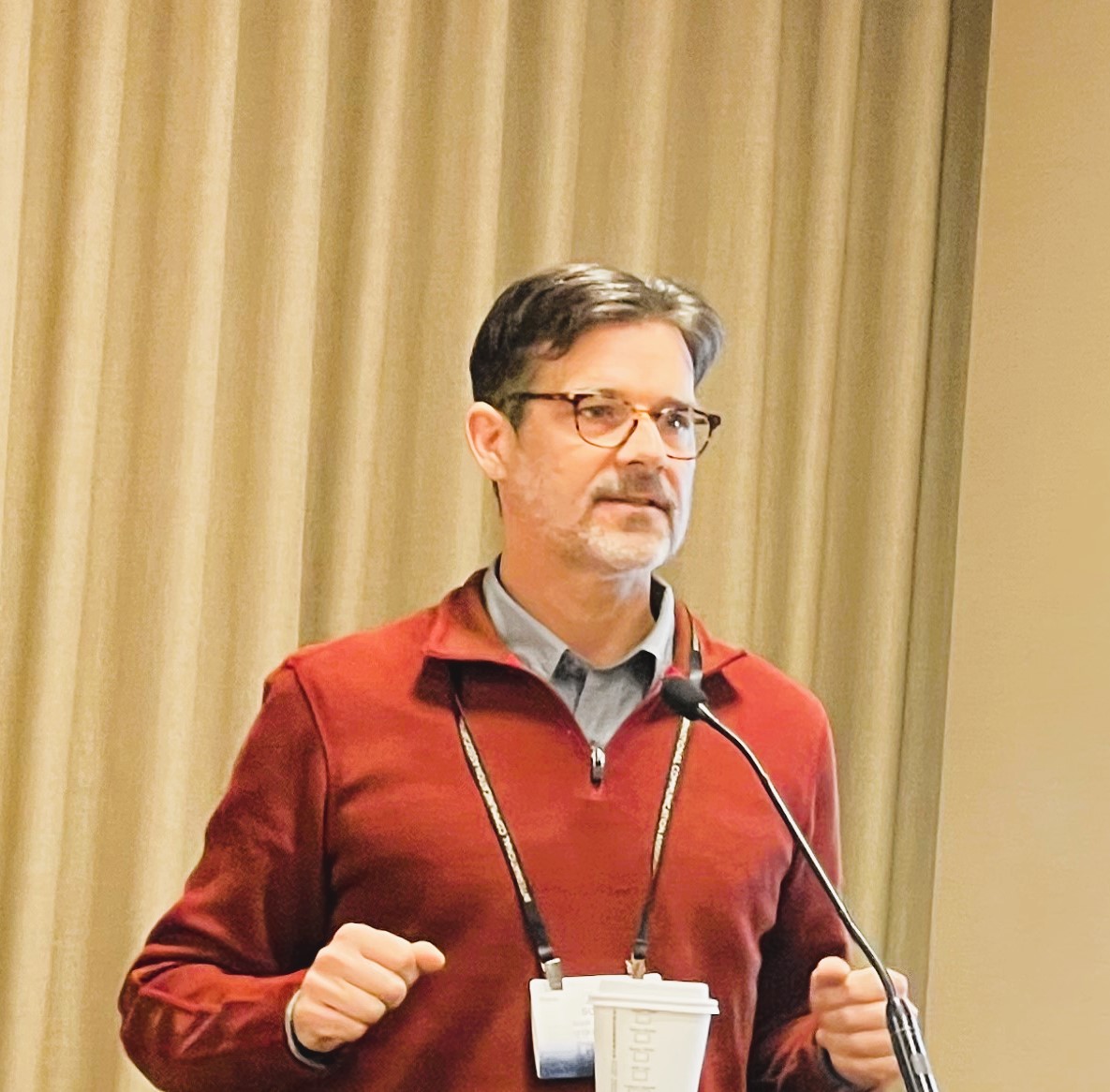 Dr. Scott Campbell
Meet Dr. Scott Campbell, a distinguished professor of Telecommunication at the University of Michigan and a highly regarded figure in the Networked Mobilities Lab. With an extensive portfolio in various academic journals and affiliations with prestigious editorial boards such as the Journal of Communication, Dr. Campbell is a notable expert in the field. In our upcoming November issue, we interviewed Dr. Campbell about his recent research and the exciting future directions that he envisions.
INTERVIEWER: How did your educational journey lead you where you are today in your current academic field?
Dr. Scott Campbell: As an undergrad, I studied Advertising in the College of Mass Communication at the University of Nebraska, graduating with a Bachelors of Journalism in 1992. That education set me up for a career producing internal and external communications (training materials, newsletters, etc.) for a consulting firm based in Lincoln, NE servicing the retail laptop computing industry. IBM was our largest client with their "personal computer."
After four years in that role, I moved on to do marketing operations and project management for Sprint PCS at their world headquarters in Kansas City. By this time, it was early 1997 and they were preparing to launch the first (2G) digital mobile network in the United States market. My undergraduate education set me up to do communications and project management, but it was luck that landed me in the laptop computing and mobile communication industries.
While working at Sprint PCS, I realized my passions were in studying the social implications of digital media, so I completed a Masters degree program in Communication Studies while working and eventually left industry altogether to focus on the PhD program, which I completed at the University of Kansas in 2002. That degree, along with some publications, set me up for my first academic job as an Assistant Professor of Communication at Hawaii Pacific University, followed by my joining the faculty at the University of Michigan in 2005.
INTERVIEWER: What is some of the most recent or notable research/academic work you have done in the field of communication and what do you find most interesting about it?
Dr. Scott Campbell: Scholars have recognized my dissertation as the first to directly grapple with the social uses and consequences of mobile communication. This is not to suggest I was first to write on the topic, but I believe I was the first to embrace it as a dissertation topic. At the time, there was a lot of narrative about how technologies like computers and mobile phones were changing the social landscape. My dissertation flipped that narrative to place focus on the ways uses and consequences of mobile phones are socially constructed through influence among close personal ties. This is a theme that has resonated throughout my work since.
More recently, I am excited about some work I have been doing on the topic of solitude. Mobility and ubiquity in the communication environment has changed the landscape of solitude, and I have been doing research lately that tries to explain the conditions under which solitude can be beneficial or detrimental for well-being. This research extends on some recent theoretical work I have done with the concept of solitude, which had traditionally been regarded as being physically alone from others. The article (linked here) that I published in Communication Theory (with Morgan Ross) re-conceptualizes solitude, away from physical aloneness toward an understanding of it as social aloneness, or as we put it "noncommunication." As we argue, positioning solitude on the other side of communication provides more traction for those interested in studying and experiencing it in the digital age.
INTERVIEWER: How does your current research/academic work relate to the study of networked mobilities?
Dr. Scott Campbell: My research examines the ways that communication and media redefine the meaning of places and how people experience them. Most scholars of networked mobilities are focused on urban areas. My work uniquely is interested in the small, confined, and bounded spaces in which people are connected and mobile at the same time. I recently conducted a study comparing how uses of mobile media are shaped by the nature of the space in which people are connected and mobile, finding that connected mobility in the home shapes uses and gratifications of mobile media differently than connected mobility in urban areas. This study helps fill a gap by bringing focus on "bounded" spaces of connected mobility that are super common and important to people, but typically overlooked in the research on networked mobilities.
More broadly, I am also reflecting on how the integration of media and space calls for new levels and types of awareness. I am presently working on developing the concept of media awareness, which is aimed at helping people navigate the invisible flows and configurations of networked mobilities.
Manushri K. Pandya
Manushri Pandya is an NML member and third-year PhD student in the CRDM program. She previously studied English Literature and Technical Communication, which has greatly helped focus her research on data visualization and geospatial mapping of networked media. For our September issue, we interviewed Manushri about her current work in the field of mobile communication and how that has transformed over the years.
Interviewer: How did your educational journey lead you where you are today in your current academic field?
Manushri Pandya: I'm currently a third-year PhD student in the Communication, Rhetoric, and Digital Media (CRDM) program at NC State. My past educational background has certainly shaped my present academic career. I completed my B.A. in English Literature from India, which is when I started thinking about how language and communication can design different experiences for everyone. I was always fascinated by the connection between technology and communication, and I wanted to pursue a field that articulated how these two genres can be seen working adjacently. I then pursued my M.S. in Technical Communication from Missouri University of Science and Technology, which served as a stepping stone for me to think about advancing my career into a PhD program. Being a CRDM student has enabled me to understand the role of technology, digital media, networks, mobilities, and social justice in the bigger picture of communication studies.
Interviewer: What is some of the most recent or notable research/academic work you have done in the field of communication and what do you find most interesting about it?
Manushri Pandya: My scholarly work so far has been focused on risk communication, digital interface design, technical communication, communication networks, and data visualization. I have recently been working on the geospatial mapping of mobile networked creativity examples hosted on the Mobile Networked Creativity (MNC) website. I use the ArcGIS StoryMaps platform to create a visual and interactive mapped representation of where certain instances of MNC unfolded, who was enacting them (or enacted by them), and what was their specific intent and purpose. It has been very interesting to work on this project because it reveals various geo-political insights on mobile networked creativity and making do. These examples highlight how MNC is a culturally diverse endeavor occurring – in most cases – as a result of unequal access to resources.
Interviewer: What advice would you give to another student who is interested in mobile communication research?
Manushri Pandya: I'd highly encourage students interested in mobile communication research to check out the various ongoing projects at the Networked Mobilities Lab (NML). Another great avenue for students would be to engage with the lecture series featured on the NML website to gauge their interests and see how mobile communication research would be meaningful for their specific goals.
Dylan Lang
Dylan Lang is an NML member and Junior Computer Science undergraduate student at NC State University. He primarily works on frontend and backend web development for the lab's website, including his work on the Retro Mobile Gaming Database. For our April issue, we interviewed Dylan about his current work and how it will contribute to his future career endeavors.
INTERVIEWER: How did your educational journey lead you where you are today in your current academic field?
DYLAN: My education journey started when I was in high school. Back then, I was invested in video games and would play them just about every day. I've always been fascinated by what they can offer to the player in terms of engaging gameplay and meaningful storytelling that resonates with me even today. Video games were my passion so I decided that I would like to pursue video game development as a career. Each year in high school, I took a programming language course that could bring me closer to learning how to work on a video game. Over time, the languages I've learned had grown on me and I eventually became less invested in video game development to being invested in computer science as a whole. This ultimately led to my decision to pursue computer science rather than video game development. This brings me to today, where I am now pursuing a bachelor's in computer science.
INTERVIEWER: What is some of the most recent or notable research/academic work you have done for the Retro Mobile Gaming Database and what do you find most interesting about it?
DYLAN: The most recent work that I've done on the RMGD mainly involved working with the frontend of the database. This involved modifying Vue.js files that provide the view that users would have to the database and improving the user experience overall. One notable contribution that I made was including a feature where users can delete a row for a video URL, image URL, or an article reference and link when registered users are suggesting new games. Previously, there was no such feature for the users to use and instead, if the user made a mistake in copying over article references and links, then the user had to delete all of the links that they have added to the view, as there was no way to modify the rows as a text input once the user confirmed adding a new row. With the new change that I have pushed to the website, users can now delete a row in the suggest games form should they make a mistake and correct it with relative ease. The aspect that I found most interesting about RMGD is how the entire project comes together as a whole. Previously, when I started working with the database, I had no experience/exposure in software engineering, so it came to me as a surprise when I realized how complex the entire project was. Compared to all of the other work that I've been tasked to do in my classes, they came nowhere near the complexity of the RMGD. As such, I hadn't much clue as to where to begin when it came down to learning how the database functioned. In my time working on the database, I've slowly learned aspects of the project such as how spring boot applications work along with persistence classes, relational databases, and REST API Endpoints. This experience has shown me how easily software can be deployed onto servers and how users can interact with the developer's work similar to how other websites and applications function. Overall, the experience of working on the database has really opened up my mind to how projects are implemented in the field of software engineering.
INTERVIEWER: How does your current research/academic work on the Networked Mobilities Lab help you with your future work endeavors?
DYLAN: My current work for the Networked Mobilities Lab has vastly expanded my knowledge in software engineering and put me in a position where I would experience software engineering practices and maintain and expand upon preexisting software, especially in frontend. As such, this work will help my future work endeavors when I am put in a similar situation where I would need to implement a software engineering project. Currently, I am in the process of implementing a software engineering project called CoffeeMaker that is made to function similarly to GrubHub, but much simpler. Both RMGD and CoffeeMaker have helped greatly expanded my knowledge in implementing changes and functionality to software engineering projects. Using this experience gained, I can better implement a software engineering project for when I take Senior Design next semester, where the goal is to put the software engineering principles to the test. Not only will this experience help with my upcoming classes, but having the experience of implementing both backend and frontend will inevitably assist me when I work as a full-stack engineer with Fidelity Investments this upcoming summer.
Dr. Mai Nou Xiong-Gum
Dr. Mai Nou Xiong-Gum is an Assistant Professor of Communication Studies at Furman University. Her most recent work deals with understanding the role of mobile communication and ICTs as they reconfigure our spaces of sociality, and, therefore, our communities and civic communication processes. For our March issue, we interviewed Dr. Xiong-Gum to learn about her work and how it relates to networked mobilities.
INTERVIEWER: How did your educational journey lead you where you are today in your current academic field?
DR. XIONG-GUM: As an undergraduate, I was a double major in French and Political Science. While this start to my educational journey might seem distant from communication studies at first glance, it's actually been quite useful in helping me add to scholarly conversations in the field. This background helped to shape my interest in rhetoric, mobilities, networks, and issues of power, although, I do admit I didn't see this as clearly back in those days. I always loved language and saw it as a source of power, but there are limitations to social constructivism that I couldn't start to resolve until I started engaging with actor network theory and networks in general. In social constructivism, the basic idea is that language constructs our realities and experience of the world, and that language has power. So, if most people have the capacity to use language, or to communicate, then why is there such a differential distribution of power? With a background in postcolonial francophone literature, political science, and rhetoric, I saw how language can be weaponized upon people, to campaign, to erase their identities, or to create new spaces of social encounters. But it isn't language alone that is able to create these spaces. For instance, colonists didn't only go in to take over people's languages and way of life, they went in with a network of resources like doctrines, policies, vehicles, guns, tools, and foot soldiers. There's an entire system of political power that enables language to be a source of power. So, in a way, this can be translated to a core part of my research identity, which rests on the idea that communication is a source of power, but this power is enabled by a network of relations. So, today, when I think about how communication shapes human behavior, I consider both the symbolic use of communication and the material use of inter-related systems and infrastructures come together to influence our choices or options. This is what has drawn me to study bordering practices and creative media practices because I see them as inter-related and in tension with one another. For example, states are continuously finding more and more creative ways to regulate our mobilities by way of newer surveillance technologies, while forced migrants are also finding more and more ways to address mobility issues by taking on dangerous routes or using questionable makeshift water vessels and so on. All the while, language is used to shape our public perceptions and understanding about the very nuanced phenomenon of our current migration crises. This is to say that my education journey has shaped my understanding of my current interests, but it wasn't by design. Communication studies is so interdisciplinary that it welcomes these kinds of journeys. I've also encountered excellent mentors that helped me to draw my connections. And, for the most part, I think everyone's own educational journey gives them their unique perspective on some field of communication studies' larger questions.
INTERVIEWER: What is some of the most recent or notable research/academic work you have done in the field of communication and what do you find most interesting about it?
DR. XIONG-GUM: I'm still in my early career stage, and I'm still developing my research agenda, but I would say that my most notable research so far would be the article that I co-authored with Adriana de Souza e Silva, "Mobile Networked Creativity," published in Communication Theory. This article opens up with the line "creativity is a hot topic now days," and we spend the remainder of the introduction explaining that people often don't think of creativity as a form of communication because it's been wrapped up in all the buzz about innovation and art. So, this piece is special because it attempts to reconsider creativity studies as more than what's been theorized in the field of psychology and the management sciences. This research is valuable for the field of communication and mobile communication studies because we often forget what Everett Rogers, the founder of diffusion and innovation studies, has said about creativity. He viewed creativity as a form of metacommunication. First, creativity has to be rhetorical because it has to resonate with others and be appropriate for situations. Next, creativity has to be mobile, otherwise ideas never diffuse onto society. Lastly, when we recognize or view something as "creative," we actually understand a network of things all at once from the history of a tool's uses, to knowledge about possible uses, to social norms about the tools, to even our emotions related to the tool and its uses. So naturally, all of these things are valuable to early mobile communication scholars who wanted to understand the phenomenon of mobile phone's diffusion and adoption in society. While diffusion, adoption, domestication, and appropriation studies have emerged as staple studies in the field of mobile communication, in general, scholars need to give more attention to how these studies intersect with creativity. I mean, look at all the "creative" things we've done and do with mobile technologies, from content creation to digital activism to all the agile things we've seen displaced and emplaced people do during our recent migration crises. But, like the power of language that I talked about earlier, mobile technologies alone don't create the conditions for power to take place or for creativity to take place. It takes a whole network of power relations and the nuances within an environment, in addition to mobile technologies, that create the conditions for creativity to emerge. So, I'm especially proud of this article for attempting to bring more attention to creativities with mobile communication studies. Moving forward, Adriana and I are currently working on our book project related to Mobile Networked Creativity, and I really encourage everyone to take a look at the crowdsourcing website that's been developed to help us work through this larger project, check it out under the Projects page.
INTERVIEWER: How does your current research/academic work relate to the study of networked mobilities?
DR. XIONG-GUM: I think, most obviously, my current book project with Adriana de Souza e Silva exemplifies a study of networked mobilities because we argue that creativity takes place because of a lack of resources for mobilities. From our previous work on Mobile Networked Creativity, we have argued that creative media practices require a network or relations that include mobile technologies, people's relationship to those mobile technologies or their access, and their relationship to the spaces in which they live in. As we are working through this current book project, we see that mobilities are a capability only when there is a network of communication, infrastructure, and politics that foster it. So, we are seeing that where people have been limited in their mobilities, there is some creative practice taking place as a response to the limitations. This also takes us back to Everett Roger's position that creativity is a form of metacommunication. And, actually, this is where we decided upon the idea that creativity is survival. Creativity is communication, but in situations of hardship and the lack of resources, creativity's deliverable outcome is a person or a people's way of surviving. Among our examples, we draw attention to marginalized people in the favelas, on the outskirts of Rio de Janeiro, a major global city, and forced migrants who are trying to permeate the borders of the nation-states. A lot of the creative practices that take place are in response to creating networked resources that enable mobilities, and, sort of, a struggle for inclusion. When I think of inclusion now, my mind goes straight to networks since they produce the conditions for exclusion.